U.S. Commercial Real Estate is on the forefront of international investment in 2022
What does that mean for your property?
Activity in the U.S. commercial real estate market is finally beginning to stabilize post the onset of the 2020 COVID pandemic, far exceeding expectations at the end of 2021. Booming interest in multi-family development sites and industrial properties have breathed new life into a once uncertain sector. Last year's commercial investments totaled to nearly $809 billion, an almost 35% increase from even pre-pandemic records. The U.S. real estate market is back on the forefront of investor attention both domestically and, with a newfound aggressiveness, internationally.
The U.S. commercial market has long been a safe and reliable place to do business. Strong demand and growth coupled with low cap rates compared to international markets attract investors from all corners of the globe. However, foreign investors fell quiet during 2020 and early 2021 and only accounted for 7% of total real estate investment activity.
As travel limitations, health restrictions, and new patterns for growth bloomed in 2021, foreign investment in commercial properties saw an overwhelming increase in activity. Almost 77% of 2021's second-half commercial revenue was sourced from international parties, one of the strongest spikes since data collection began in 2001.
What types of commercial real estate properties are attracting attention?
Industrial – an attractive asset for both domestic and foreign investors, industrial properties grew from 15% to more than 30% of all foreign capital invested since 2020. Rents in this sector have topped a record national high of $9.10/SF. Net absorption hit a 30-year record of 432.5 million SF as companies seek to combat booming demand, supply chain issues, and rising transportation and construction costs.
Multifamily – second only to the industrial sector, multifamily investments came in at just under 30% of all capital invested from foreign parties. Traditionally small players in the multifamily market, foreign investors are attracted by the income protection that national rent resets through a period of high inflation and wage growth provide.
Notably, retail and CBD office space have both seen a downward trend in domestic and foreign activity. Retail has seen the most change, dropping from 17% to just under 5% in 2020 while office space fell to around 18%.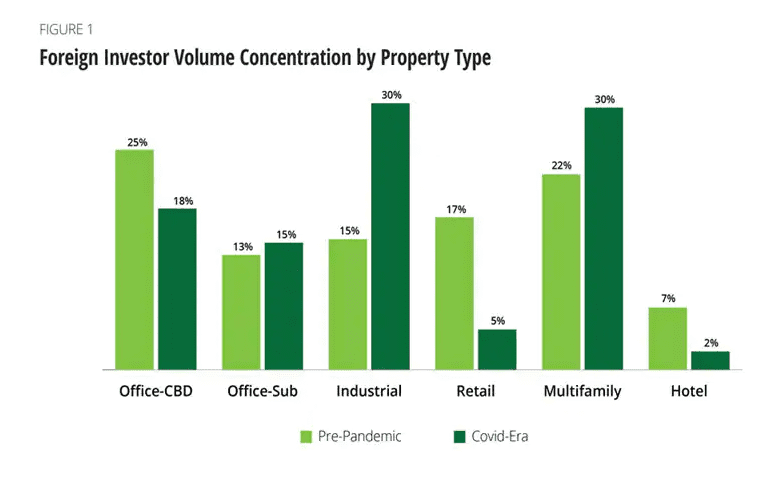 What areas are foreign investors attracted to?
Like many young couples, families, and business workers who are flocking to the quieter living of rural life, foreign investors are shifting their efforts out of major cities. Primary metros such as Boston, Chicago, Los Angeles, San Francisco, and Washington D.C. are noticing the first major population decline in a decade.
According to Constructiondive.com, 62% of international funds are going to "non-gateway" markets. Sunbelt cities such as Dallas, Charlotte, Denver, Nashville, and Austin that were once seen as secondary or even tertiary markets are now prime candidates for investor interest due to high growth and low tax rates. Additionally, these areas provide prime asset classes that traditionally avoid highly populated areas such as warehouse distribution centers, self-storage facilities, and suburban office parks.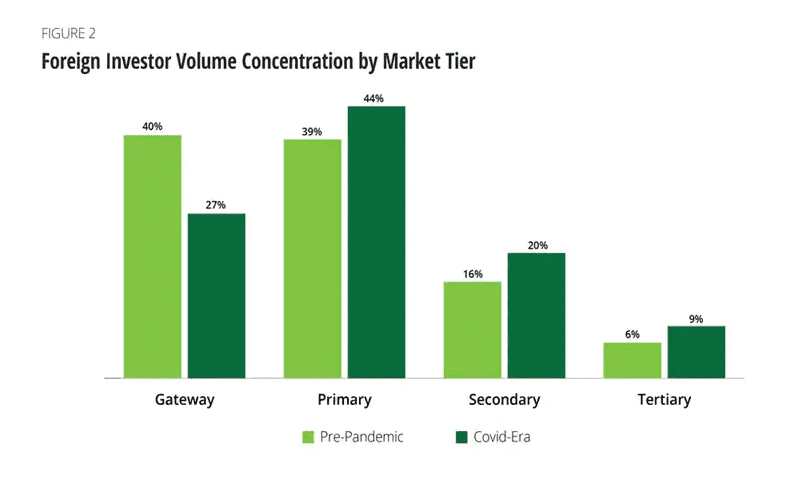 What does that mean for your property?
If you are looking to purchase, sell, or even lease commercial property, it is crucial to understand the impact that foreign investment is making on the market.
Domestic investors should prepare for the significant competition that foreign entities will pose when searching for their next investment project, especially in these secondary markets. Sellers will need to ensure that their property is being efficiently marketed to remain on the forefront of foreign interest. All parties whether foreign or domestic will need to remain agile, flexible, consistent, and with a clear line of communication in order to meet the needs of this booming, international, market.
Did you know – DeWees Real Estate Group's listings received listing views from more than 50 countries in 2021? Our approach combines an international platform with the local knowledge that foreign investors seek to ensure our listings are receiving attention from the world's top buyers. Learn more about how your property can receive premium exposure at www.deweesreg.com/services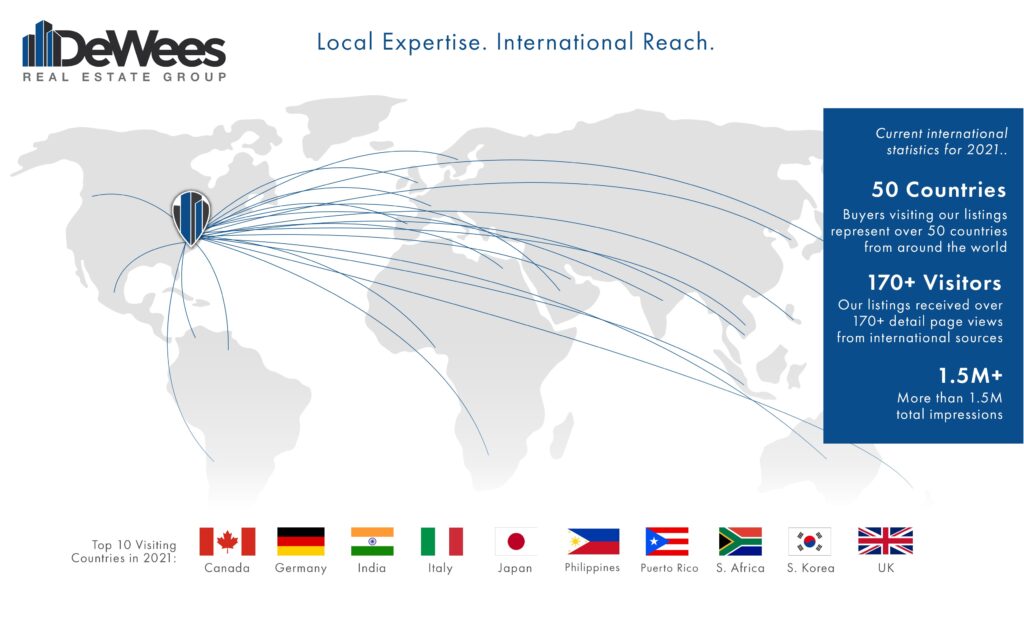 ___
About DeWees Real Estate Group
DeWees Real Estate Group is a full-service real estate firm located in Columbia, SC and Akron, OH specializing in acquisitions, leasing, and management for all property types. We utilize state of the art software and marketing materials to ensure our listings are getting the highest and best exposure available in the marketplace.
For sources and more information:
https://www2.deloitte.com/us/en/pages/financial-services/articles/foreign-investors-have-returned-to-us-real-estate-but-not-where-they-traditionally-went.html
https://www.nar.realtor/blogs/economists-outlook/foreign-investor-acquisitions-of-u-s-commercial-real-estate-increased-49-in-2021
https://www.benzinga.com/markets/penny-stocks/22/06/27572431/foreign-investors-have-a-strong-appetite-for-u-s-real-estate-especially-in-these-markets