Sam DeWees Receives Crexi's Annual Platinum Broker Award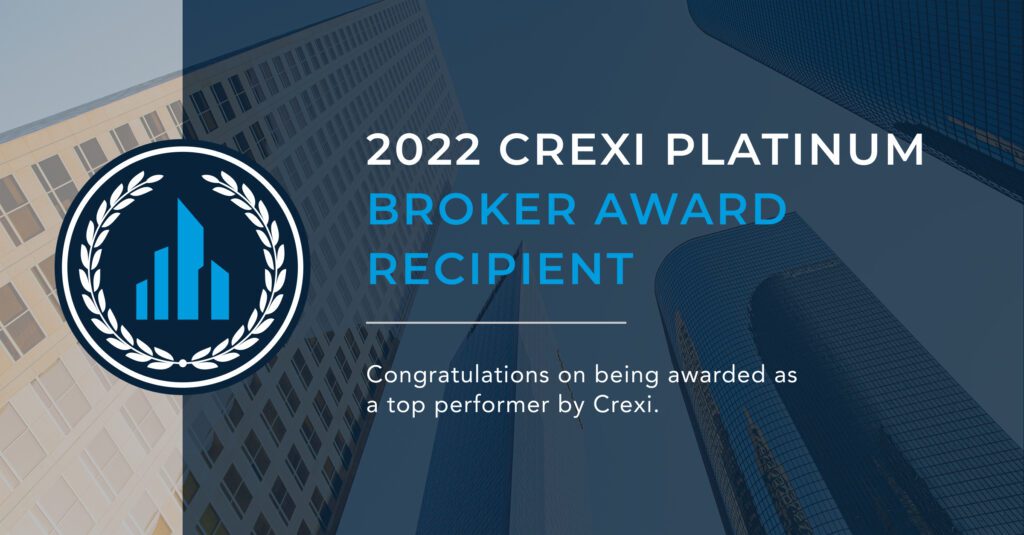 Los Angeles, CA – April 7, 2022 – Crexi, the commercial real estate (CRE) industry's fastest-growing marketplace, data, and technology platform, announced Sam DeWees as a winner of its annual Platinum Broker Awards, an inaugural awards program recognizing the highest performing brokers on Crexi's platform.
To be recognized as a Platinum Broker, Crexi users must land in the top one percent of brokers using the platform. Sam DeWees, among other winners, are being recognized for their exceptionally high engagement, high property search score, use and knowledge of Crexi's marketing portal, deals closed on Crexi, as well as a healthy number of leads per listing, total listings, and total value. Brokers are recognized based on three focuses – sale, lease and auction. Winners from the sale and lease categories span hospitality, industrial, land, multifamily, office, retail, restaurant, and special purpose sectors, while the auction category spotlights top performers overall.
"This program is our way of acknowledging the brokers who continue to make an impact and find success with Crexi across sales, lease, and auction functions," stated Mike DeGiorgio, founder and CEO of Crexi. "Commercial real estate has been a difficult landscape to navigate over the past two years, but brokers have found technology solutions like Crexi to continue growing their business and close more deals in record time."
For more information about the Platinum Broker Awards or to take a look at the full list of winners, please visit: https://go.crexi.com/platinumbrokerawards/
Congratulations, Sam!
---
About DeWees Real Estate Group
DeWees Real Estate Group is a full-service real estate firm located in Columbia, SC and Akron, OH specializing in acquisitions, leasing, and management for all property types. We utilize state of the art software and marketing materials to ensure our listings are getting the highest and best exposure available in the marketplace.
About Crexi
Commercial Real Estate Exchange, Inc. (Crexi) is revolutionizing the way commercial real estate professionals transact by accelerating deal velocity and democratizing access to both properties and industry data. In 2015, Crexi embarked on a journey to transform the CRE industry: to create a single-source hub for stakeholders to market, analyze, and trade commercial property.
Today, Crexi empowers nearly 2 million buyers, brokers, and tenants each month to explore over $2 trillion of property value nationwide and has helped to close upward of $330 billion in transactions. Crexi's growing team of 225+ employees — based in Los Angeles with offices in Miami, New York, Dallas, Phoenix, and Raleigh — strive to create a centralized CRE marketplace with enhanced marketing, due diligence, and deal-closing tools to accelerate our users' success. For more information on Crexi, visit www.crexi.com.